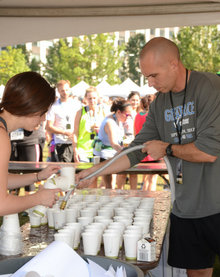 Coordinating Pennsylvania's largest 10K race and its related events truly takes a team effort. Behind the scenes and all along the race course, our dedicated team of volunteers make the Great Race an extraordinary event.
Volunteers kick off Great Race weekend by helping distribute packets, t-shirts, and goody bags at the Great Race Expo on Friday and Saturday. On Saturday, the team will support the Dollar Bank Junior Great Race events, and on Sunday, they'll help ensure a great start to our 5K and 10K races, keep runners hydrated along the course, and greet participants at the end of their journeys.
Register as an individual, family or group - we have numerous shifts and types of assignments available to suit any interest and/or schedule.
Sign Up