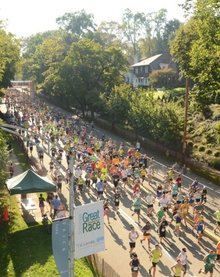 Read about transportation, late bib pick up and much more.

WHEN IS THE 2018 GREAT RACE?
The Great Race will take place on Sunday, September 30, 2018. The 5K Run & Fitness Walk will begin at 8:00 a.m. at the corner of Fifth Ave. and Atwood St. in Oakland, and the 10K Run will begin at 9:30 a.m. by the corner of Beechwood Blvd. and S. Dallas Ave. in Frick Park (Squirrel Hill).
WHAT IS THE CAP FOR THE 2018 GREAT RACE?
In 2018, The Great Race 5K and 10K again will be capped separately for a total of 16,500 participants:
11,000 in 10K run
5,500 in 5K run/fitness walk
DO I HAVE TO PARTICIPATE IN THE RACE I SIGN UP FOR OR CAN I SWITCH DISTANCES IF I DESIRE?
Yes, you can make the switch at The Great Race Expo. Pick up your bib before visiting the Runner Services booth to change races.
CAN I TRANSFER MY BIB TO A FRIEND?
Yes, you can complete the transaction at The Great Race Expo on Friday and Saturday.
DOES THE RACE COURSE FEATURE A LOT OF HILLS?
The Great Race course does contain hills, but it is predominately downhill. Miles 1 and 5 contain the most uphill sections, while miles 2, 3, 4, and 6 contain light rolling hills and downhill stretches. Click
here
to view the course map, with elevation.
CAN I BRING MY CHILDREN IN THEIR STROLLER?
Baby joggers, bicycles, skateboards, scooters, strollers, roller skates and roller blades are not permitted on the course.
IS SHUTTLE BUS SERVICE AVAILABLE?
Yes. Shuttle service is available to those who wish to park downtown by the finish line and ride to the 5K and 10K start lines. Shuttles will leave from Stanwix St. between Penn Ave. and Liberty Ave. (in front of Fifth Avenue Place) from 6:15 a.m. to 7:15 a.m. for 5K participants and from 7:15 a.m. to 8:45 a.m. for 10K participants.
The shuttle fare is included in the registration price! Participants do not need to purchase a special pass to board the shuttles. Simply show your bib when you board and you are all set! Shuttles will leave from the same location from 9:30 a.m. to 12:30 p.m. for individuals who parked at the start lines and wish to return to their vehicles. Please visit the Transportation page for complete shuttle details as well as complete parking information.
WHAT ARE THE ROAD CLOSURES FOR THE GREAT RACE?
Street closings for both the 10K and the 5K are divided into four separate zones. Zones C & D will be closed at 6:30 a.m. Zones A & B will close at 8:30 a.m. Each zone will re-open at different times.