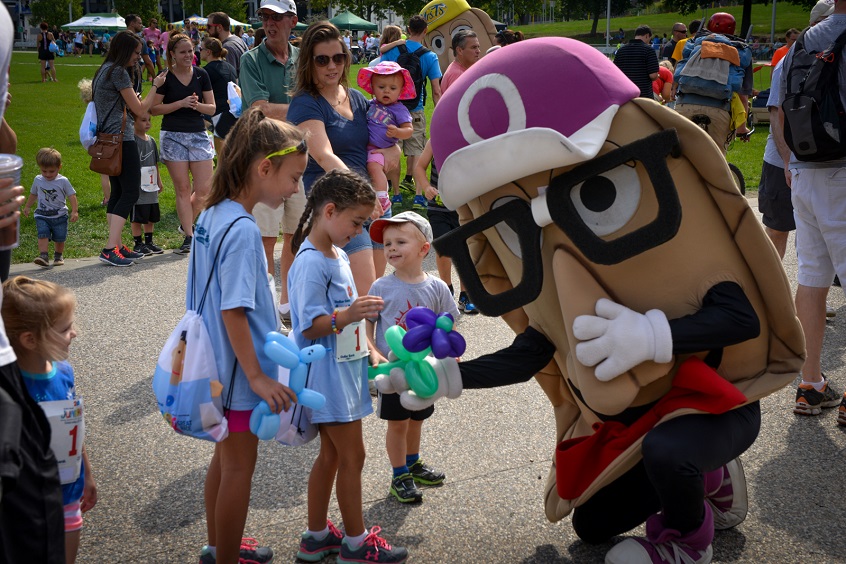 The Next Generation of Runners and Their Families Enjoy the 23rd Annual Event

PITTSBURGH (September 29, 2018) – Chilly fall temperatures did not keep more than 550 kids and their families from the 23rd running of the Dollar Bank Junior Great Race on Saturday, September 29. The event included three races for children ages 12 and younger based on their age and ability – the one-mile Family Fun Run, 50-yard Tot Trot or Diaper Dash.
Saturday's festivities began at 9:30 a.m. with the
Allegheny Health Network
Strike Zone, bounce houses, face painters, strolling performers and other entertainment. Mascots such as Iceburgh, McGruff the Crime Dog, the Eat'n Park Smiley Cookie and the Pittsburgh Pierogies also made an appearance before the races began at 11 a.m.
"This year's Junior Great Race was a memorable day of family fun and fitness," according to Joe Smith, Senior Vice President of Marketing at Dollar Bank. "Families sign up to take part in a race, but they get so much more thanks to a variety of pre and post-race activities and entertainment."
After crossing the finish line of his or her respective race, every child received a finisher's medal, goodie bag, hot dog courtesy of Café at the Point, and Smiley Cookie courtesy of Eat'n Park. Other post-race activities included souvenir photos compliments of
Dollar Bank
, a performance by Pittsburgh Musical Theater Xtreme Teen Broadway and PMTweens, and exciting raffle prizes.
"The highlight of today's race was seeing Family Fun Run participants leave Point State Park and race on the streets of downtown Pittsburgh for the first time ever," said Race Director Brian Katze. "The new course was a great way to kick off one great weekend of events for runners of all ages and abilities."
For the first time in the history of the races, the Dollar Bank Junior Great Race was held on the same weekend as the Richard S. Caliguiri City of Pittsburgh Great Race presented by Highmark Blue Cross Blue Shield. By hosting the events back to back, one of Pittsburgh's longest-running and most beloved races has evolved into a weekend of events for the whole family.
About the Richard S. Caliguiri City of Pittsburgh Great Race
Each year on the last Sunday of September, the starting gun sounds for a world-class road race that has become a true Pittsburgh tradition for the past 40 years. The Great Race – established as a 10K race by the late Mayor Richard S. Caliguiri – has attracted more than a quarter million participants since 1977. Over the years, this popular fall fitness classic has grown to include a 5K run/walk, running clinic, two-day expo and children's race, with more than 16,000 individuals taking part in these various activities annually. For more information about the Richard S. Caliguiri City of Pittsburgh Great Race, visit
www.RunGreatRace.com
About Pittsburgh Three Rivers Marathon, Inc. (P3R)
P3R is a nonprofit organization that is passionate about promoting a love of running and enhancing community access to health & fitness education and activities. Best known for organizing the acclaimed annual DICK'S Sporting Goods Pittsburgh Marathon, we also run a variety of other high-quality races, events, and health and fitness programs throughout the Pittsburgh region. While many of our races attract some of the nation's highest-profile professional athletes, we offer activities for all ages and ability levels. The only criterion for participation is a desire to be happy, healthy and active! Read more at: P3R.org